#nerdupthebaby ~ Our Nursery Reveal
Thomas and I had a great time designing this nerdy nursery for our soon-to-arrive little one. With Star Wars, Doctor Who, Teenage Mutant Ninja Turtles, Star Trek, Ghostbusters, Firefly, Harry Potter, Wonder Woman, Robot, Dragon, Marvel, Monster, Dog, Lego, and Dinosaur details, we infused this room with as much of ourselves as we possibly could, while keeping it modern and classic.
We are so in love with this space and hopefully it will be a room that can grow with our little girl.
Paint colours
Walls: Arctic Seal in Aura by Benjamin Moore.
Closet Doors, Crown Moulding and trim: Chantilly Lace in Aura by Benjamin Moore.
---
CIAO Shoe Cabinet from Structube – This was originally in my photography studio but we moved it to make our Book Nook, and it fit her quite perfectly! It will not be a shoe cabinet in here though – it's a diaper cabinet!
Jonesport Convertible Crib in Cloud Grey – This was so not what we thought we'd like (we went in to Babies R Us expecting to buy a white crib!) but as soon as we saw it both of us loved it. We wanted something that would last the child's entire life. This converts into a toddler bed, day bed and double bed. When we were looking for a crib, we concentrated on how it would look as a BED rather than a crib, because we figure it will be a crib for 2-3 years and a bed for MUCH longer.
Ceiling fan light by NOMA from Canadian Tire.
Art Prints by Le Petit Elephant by Genevieve Santos – This is one of my favourite artists. I purchased the Growing Up Geek and Tea. Earl Grey. Hot art prints first, before we had even started on the room. I knew they belonged in here.
Frames are from Michaels.
The bird art at ÖNSKEDRÖM Art Prints from IKEA. We have a few framed around the room.
Frame is also from IKEA.
Various Lego Star Wars Minifigs.
Plant is from Homesense
I adore our photo and art wall. It took a lot of different tries to get the frames right, but once we did, it was perfect! Various frames from Homesense, IKEA and Michaels.
Also shown in this image:
I have to mention the amazing Aden + Anais Swaddlers in the Dino-Mite print from Snugglebugz. They are too cute!
Tulip Soren Double Dresser – This is the MOST expensive item in the baby's room – it's nicer than our own furniture. We had a really hard time finding a dresser that was made well and fit our design. It's amazing and we love it and it will last our kids WHOLE life. It's so well made. We got it at Sleepy Hollow. Family run business. Loved them as soon as we walked inside. No pressure sales and let me order over by just emailing them with which one we wanted as well as delivered it right up into the nursery for us (which was great because it's really heavy!).
Frame from Homesense.

Chomp and Stomp Dino booties purchased from Homesense.
A closeup of the custom artwork by Andrea Emery.

Doctor Who Prints from the Doctor Who 12 Doctors 12 Stories 12 Book 12 Postcard Gift Set.
Frames from Michaels.

Thomas made this incredible Lego Star Wars mobile using ships and planets from the Lego Star Wars Planets Series. It is constructed using fishing line and part of a painted embroidery loom.
One of our favourite parts of the room is this custom commissioned piece of typographic artwork by the amazing Andrea Emery. We sent her this quote from Babylon 5 and she designed the type and had it printed on vinyl to be applied to the closet. It's brilliant and so amazing and really makes the room.
I am so in love with this Tardis Lovey by FandomFibres on Etsy.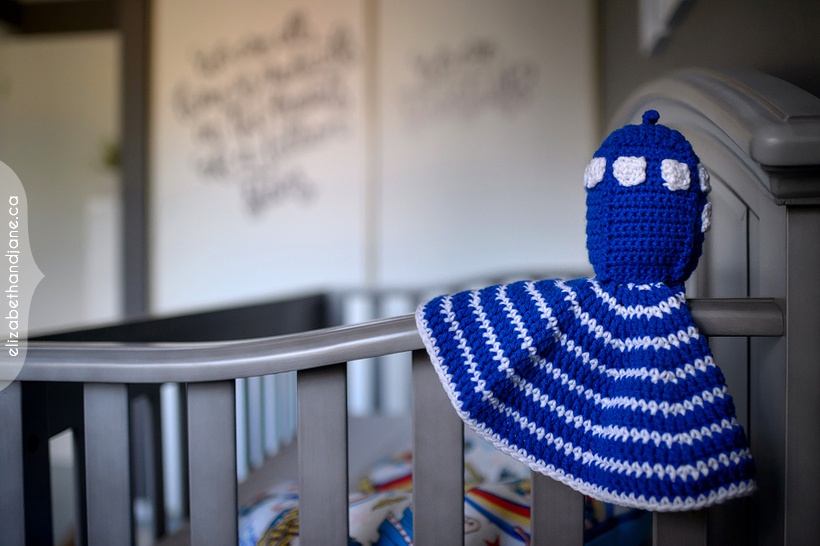 Star Trek Romulan War Bird Plush from Think Geek.
Crib sheet from Homesense.
Various Toys
For inside the closet, we thought about doing a custom fit interior, but we decided on something a bit different instead – a dresser inside the closet and we love the results! The dresser cleared the sides by mere centimetres, which was awkward to get in, but looks great when it is inside.
Dresser is NORDLI 3 Drawer Chest from IKEA.
Storage boxes on the high shelf are DRONA boxes in white from IKEA.
Corner Cabinets are IKEA PS 2014 (odd name). We put one on the floor and one on the wall. Looks excellent and visually fills the space well.
The bench idea I found on Pinterest and I'm so glad that I did. It is a KALLAX white shelving unit from IKEA, turned on its side with castor wheels added.
The boxes inside are SVIRA Boxes with Lids in Grey and White Stripe from IKEA.
Various Pillows
Aden + Anais Serenity Star – This is one of those stupid purchases that I really probably didn't need, but it matches our nursery decor so well I just had to have it. I got it through shop.ca with a coupon. It is a night light, a white noise machine (which was recommended to me to have in some shape or form by several people) and measures the temperature in the room and changes colours if it's too hot or too cold. I love it but we'll see how useful it is once the baby actually arrives.
Lego Mixel Character.
Plant is from Homesense
Marvel Mighty Muggs – I am pretty sure these have since been discontinued sadly. We were collecting them for a while so our kiddo will have them to play with!
Tardis Lamp from HMV, but also available through Think Geek and many other places. This was another purchase early on. We changed the lampshade to something a bit more neutral. Lampshade is from Homesense.
Avent DECT Baby Monitor from the Nepean Outgrow Outplay sale, but also available through Amazon.
Side table is actually an INGOLF Stool in White from IKEA.
ONSKEDROM Coaster from IKEA.
Shermag Luca Glider from Babies R Us – We found this when we were looking for our crib. When I saw this one at Babies R Us, I really loved it and knew it would go perfectly in the room.
XOXO Pillow from Homesense (we call this the "zozo" pillow haha).
Throw blanket is KRAKRIS in white and grey from IKEA.
Structube Webb Ottoman – I didn't like the matching ottoman for the glider but LOVED this one. It's not the same shade, but our nursery is a bunch of different shades of grey so it works well. It also mimics the "X" on the side table.
Book Shelves are actually White RIBBA Picture Ledges from IKEA. Anyone who knows Thomas and I knows that we love to read and we really want to instil this love of books in our kiddo so this is one of our favourite parts of the room.
Various Books
Stegosaurus wheel toy from Baby EnRoute
The following is a mish-mash of some random things that aren't necessarily IN the room, but I wanted to point them out anyways.
The dogs helped out a lot, obviously.

---