Canadian Winter Wedding ~ Heather and Paul's Wedding Sneak Peek
Today is a special day: today Heather and Paul got married. This is such a special wedding to me because of the way that I met these two. Heather and Paul are fosters for Hopeful Hearts and I've photographed their foster dogs for over a year now. When Heather told me that she and Paul were engaged, knowing that rescuing is close to both of our hearts, I couldn't have been happier for her.
Paul is from Manchester, UK. He moved to Ottawa in October 2008 and the two met three months later through eHarmony in January 2009. They had only been on eHarmony for three weeks when they met. They may have met on-line, but it turned out they lived only one street apart in Nepean!
In order to make sure we had enough snow for their wedding portraits, we actually scheduled their session one month before the actual wedding ceremony. Photographed in the trails behind the Nepean Sporstplex, Heather and Paul's vision of a Canadian Winter Wedding in the forest came to life in the best way: with tiny snowflakes falling and their newly adopted dog, Yoda, by their side.
The wedding ceremony happened today on Spy Rock in the Foley Mountain Conservation Area, Westport, Ontario. Heather's grandfather was raised on a farm on Wolf Lake, Westport and her family has been having family reunions in the Foley Mountain Conservation Area since before she was born. It is a significant place for them to be married and Heather's sister was married there a decade ago, wearing the same dress Heather wore today.
This blanket was knit by Heather's grandmother for her grandfather and it always hung on the back of his favourite chair in Gananoque, Ontario. They have been gone more than 20 years and the blanket is very special to Heather and Paul.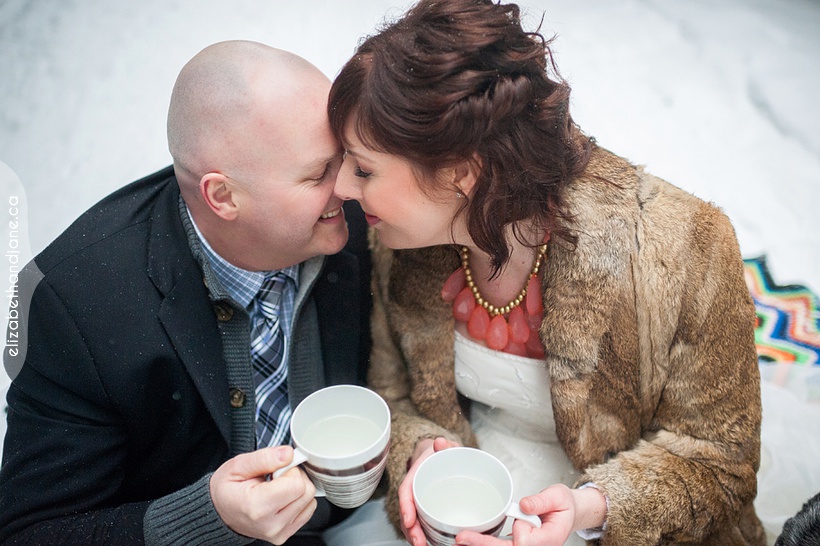 This morning I surprised Heather and Paul with this beautiful wedding bouquet made by Elizabeth at Flowers Talk.

Vendors
Wedding Dress: Heather's Sister's dress
Heather's Boots: Sorel – Cate the Great
Paul's boots: Kamik
Paul's ring: Mappins
Paul's watch: Tissot (Heather's Christmas 2010 gift to Paul)
Heather's rings: Blue Nile
Heather's sweater: Custom, by fasOla on Etsy
Paul's cardigan: Tommy Hilfiger
Paul's tie: bows-n-ties.com
Paul's shirt: Moores
Paul's suit: Calvin Klein
Heather's peach tear-drop necklace: The Hills Jewelry on Etsy (sadly, the store is closed)
Heather's hair: Danielle Sheridan at Luxe Salon and Spa
Heather's make-up: About Face Makeup by Alexandra
Flowers: Flowers Talk
Photography: Liz Bradley from elizabeth&jane photography!
Have a wonderful day,
Liz – Contact Me, I would love to speak with you!
elizabeth&jane photography
elizabeth&jane photography blog
Canadian Wedding Photography
---