The Importance of Photography ~ Giving Back
It's no secret that I love dogs. I think Thomas would characterize it more as obsessed with dogs, but to each their own. This is not a new obsession, it began when I was quite little and was only perpetuated when Thomas and I got our first dog five years ago. Paddington was the cutest little ball of fur we had ever seen. She was very tiny and perfect… or so we thought.
A year after we got Paddington, she developed a limp. We took her in to the vet and discovered she had a really bad knee condition in both knees. It was so bad that the vet said both of her parents must have had this condition. We then we discovered the awful truth: that Paddington had come from a puppy mill.
Puppy mills are commercial breeding facilities that breed and sell dogs purely for profit and the dogs are held in abhorrent conditions and have awful lives breeding over and over.
After Paddington's very expensive surgery, I realized I wanted to do something – no, I needed to do something to keep others from making the same mistake we did in unknowingly supporting such an awful place. It was then that I began the Ottawa Dog Blog, to educate Ottawa about local rescues as well as events in the city to fundraise for these amazing causes. I wanted to help out the rescues and the blog has grown into such a wonderful canine community.
Through the blog I have met some amazing people, and their dogs of course. Over the years I have helped raise money for local dog charities by hosting charity photo events.
Recently I've taken on a new endeavour that I wanted to talk about and share with you because it's been such a huge difference in these dogs' lives. One of the aforementioned amazing people I have met through the Ottawa Dog Blog is Mel, who also has a blog of her own, detailing her life being a foster family for a local rescue, Hopeful Hearts. She spoke to me a little while back about helping out by taking profile pictures for her foster dogs.
It is a proven fact that a great portrait can get a dog adopted more quickly. I can attest to this as each dog I've photographed with Mel from Hopeful Hearts, have received inquiries even before the dogs were put up on the website for adoption.
When we first found Wellie online, her photos weren't great, but something in them spoke to me and that was it. Her little eyes looked out at me through the image. I know first-hand how important a great image is for these dogs. I've documented our lives with Wellie on the dog blog.
Willow was the first Hopeful Hearts adoptable that I photographed. She was quite nervous and ran in circles around Mel the entire session. But what a sweetheart. She was adopted in record time after Mel published these images on Twitter, Facebook and the HH website.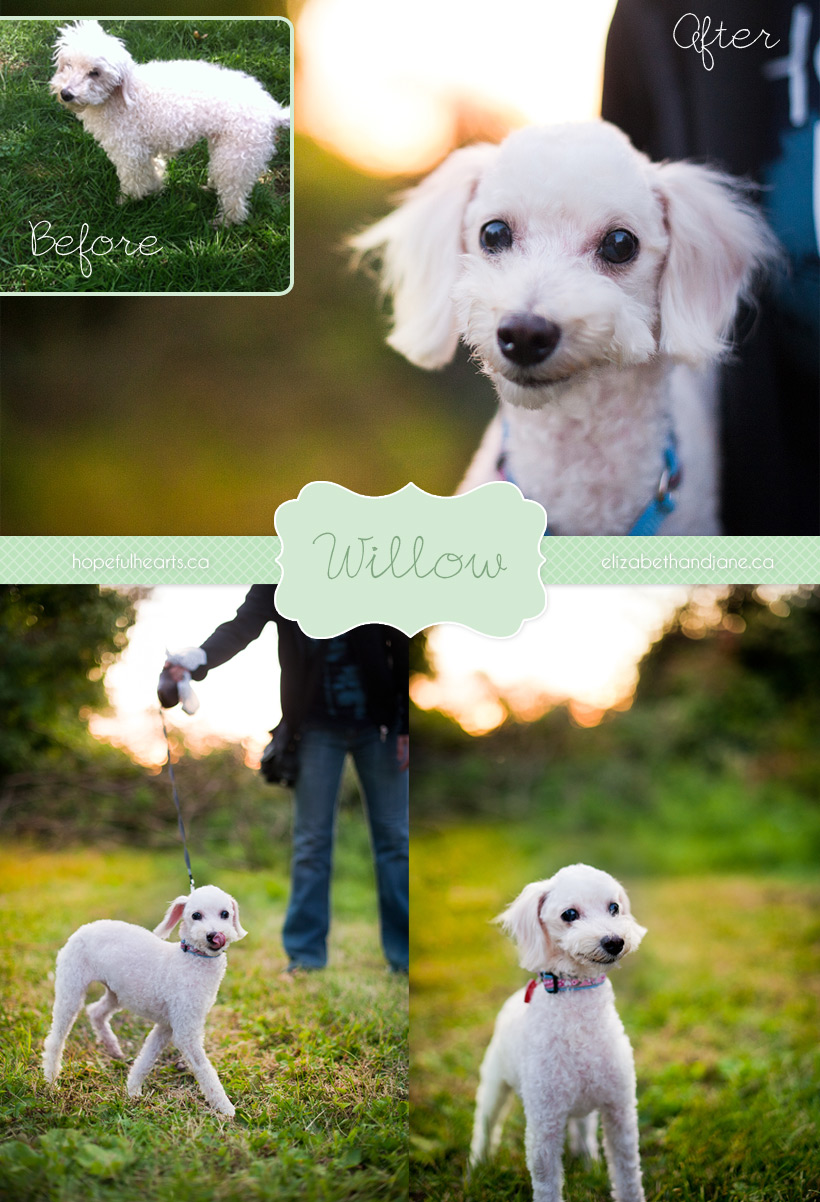 Dolly was such a wonderful little girl. She was very interested in the special treats I had for her and worked it for the camera. Dolly has also been adopted!

Millie is a beautiful young and exuberant pup and loved her session. Millie has also been adopted!

Newman, aka Mr. Cassanova, was a bit nervous and very underweight, so I made sure to give him extra treats. Newman has also been adopted!

Jazz was so scared. There is no before picture of her because when I photographed her, she had just been picked up by Hopeful Hearts. She is blind and was very unsure of what was happening. Because she was so nervous, we let her stay in the safety of her crate so she felt secure. I was very quiet and Roz, the founder of HH, talked to her gently to calm her. I used a very long lens and stayed far away while shooting so she didn't feel unsafe by my presence with the camera. I made a small sound to get her to look at me for the top photo. I've been told that since this day, Jazz has gained a lot of confidence and is now a big cuddle-bug. She is a happy and sweet little girl that was just a bit scared when we had this session. Jazz is available for adoption!

Lola is the most recent foster that I photographed and she is such a wonderful girl. She has had quite a hard life and is very underweight, but is such a wonderful sweetheart. Hopeful Hearts had inquiries even before she was officially put up for adoption on their website because of Mel sharing these images on Facebook and Twitter. Lola is currently up for adoption.

There are wonderful people who work tirelessly at these rescues doing everything and anything, and I am so happy to be able to help out in this small way.
---
If you are a pet photographer, I urge you to look into doing this as well. It's such a fantastic way to help out and help a dog find its forever home.
There are a lot of awesome photographers who are already doing this, Shine Pet Photos helps out with profile pics and portraits for national campaigns to promote adoption, Scruffy Dog Photography takes images for her local humane society's calendar, Phodographer also does profile pics for Hopeful Hearts and is also a foster for dogs as well, Urban Dog Photog does several fundraisers a year for local rescues.
Have a wonderful day,
Liz – Contact Me, I would love to speak with you!
elizabeth&jane photography
elizabeth&jane photography blog
---